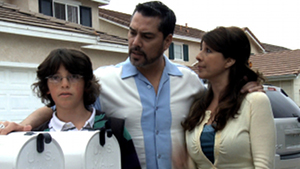 Compared to parents of other racial and ethnic groups Hispanic parents are less likely to talk with their children about the risks of drug and alcohol use. About 88 percent of Latino parents talk with their children while 94 percent of African American and 92 percent of Caucasian parents do, according to a 2008 Partnership Attitude Tracking Study. Among the 35 million families in the country with children ages 9-17, nearly 7 million Hispanic families with children in that age group are considered at risk for abusing drugs and alcohol, according to the Partnership at Drugfree.org.
Although in past years the Partnership at Drugfree.org has teamed up with several ad agencies to target Spanish speaking Americans, this year the non profit organization announced an Habla Con Tus Hijos (Talk with your Kids) ad; the first effort designed to build on the nonprofit organization's Habla Con Tus Hijos initiative, a Spanish-language website and educational campaign aimed at encouraging parents to have frequent conversations with their kids about the risks of drug and alcohol use.
Watch the video in Spanish and read the entire article at HispanicMPR.com/Elena del Valle.