I combed the mid-town Phoenix coffee shop, looking for a familiar face amidst the well-caffeinated clientele. I finally recognized the satisfied smile from the face behind one of the most influential Hispanic social media presences in baseball; Jerry Romo.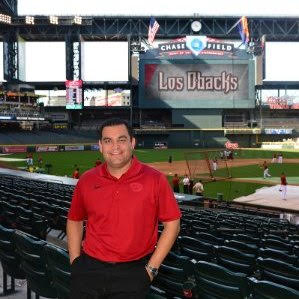 As the 2015 Hispanic Heritage Month (HHM) wrapped up this October 15th, it was a great time for our sister company OYE! to research how baseball teams and the MLB itself drove conversation celebrating Hispanic contributions to the sport. OYE!'s research on Hispanic conversation during the 30 days of HHM for all major league teams that have a Spanish language social media account discusses the findings among the thousands of mentions about kick off events, Latin music performances, fiestas, and special events to reach the Hispanic community. Of all teams analyzed, OYE! found that the Arizona Diamondbacks had the highest amount of mentions, driving 23% of the overall Hispanic MLB conversation.
Wanting to know more, I asked for Mr. Jerry Romo to meet with me and discuss the Diamondbacks overall Hispanic sports marketing strategy. As he explained that morning, the Hispanic effort from the Phoenix area ball club is both original and robust.
The Diamondbacks Focus on the Hispanic Market
Romo's role is that of Manager of Hispanic and Emerging Markets of the Arizona Diamondbacks. He is in charge of everything from public relations to social media marketing to the Hispanic community. Mr. Romo is well-regarded throughout the league for his Hispanic marketing work and spent years working with Major League Baseball's Advanced Media office in developing Spanish language content for various teams. This past January, he joined the D-Backs to spearhead their increased effort to more completely engage the Hispanic audience. On top of his specific efforts to raise Hispanic awareness for his team, Romo strives to inspire other professional sports teams, as well as leagues, to use the D-backs as a reference point and learn from how they create strong relationships with the Hispanic community.
Original Content
Among the numerous strategies used by the Arizona Diamondbacks to effectively communicate with the Hispanic community, one of the strongest is their insistence on creating original content for their fans. "Instead of taking the standard, easier, route of translating general market, English-language content, we create original content that is specifically for our Spanish-language fan base," explains Romo. "A clear example of this strategy is the 'Somos Hispanos, Somos D-Backs' campaign launched this past season which translates as 'We Are Hispanic. We Are D-backs.' From watching the video you can see that the content is focused on Hispanic players and tells a unique story of their pride in working hard for the team and being proud of their Latin heritage. View the video here. 
Another strategy is to respect the Latin culture by making a change to their team jerseys. The Diamondbacks are the first major league team to add accents on jerseys for their players that carry last names that require the marking.
Working with Hispanic Influencers
Hispanic fans love special guest performances, and in Arizona, one of the most beloved singers is Luis Coronel who performs Regional Mexican music to his growing audience. "Coronel is an important part of the overall Diamondback Hispanic strategy," explains Romo. "Having him perform this season brought in 37,600 fans on the second to last home game (October 3rd) of the season which was one of the most well-attended games during the entire 2015 season. This is significant because we were already out of the postseason hunt and still managed to bring in substantially more fans than average."
Part of the success for the Luis Coronel game was a 'meet and greet' opportunity that was popular among fans.  Sixty fans had an opportunity to meet Coronel, provided they followed and shared the D-Backs on social media, using hashtag #somosdbacks of course. This effort created an excited atmosphere as fans raved about the opportunity to meet their favorite artist. Another way the Diamondbacks promoted the event was through their media partners via radio, print, as well as billboards strategically placed throughout Metro Phoenix which helped drive awareness of the upcoming performance. Finally, ads were placed behind home plate at Chase field to advertise Luis Coronel's concert for several weeks before his arrival.
Exponential Social Media Growth for @LosDbacks
Romo discussed the importance of social media for the Diamondbacks and the great popularity of their Spanish social media accounts including Facebook (7,900+ fans), Instagram (9,000+ fans and the first MLB team to have a Spanish account), and Twitter (17.1K followers). "Our Facebook page grew by over 550% this season, up from 1,200 fans to our current position with nearly 8,000," states Romo.  "Much of this success can be attributed to the announcement from Coronel who posted that he would be performing at the game to his 6.5 million fans combined on social media. This stirred up heavy online conversation from Hispanic fans as well as non-fans who planned to attend the game primarily to see Coronel. Once we show them a good time at the game, we believe there is a good chance that they will return."
"All our Spanish language social channels play a big role when it comes to marketing to the Hispanic community," Romo adds. "This is a great way to communicate on a daily basis to stay in touch with the fans whether it is during the season or even the off season. It is important to keep our fans connected as well as up to date."
Competing with Los Doyers
The Diamondbacks have managed to maintain one of the most popular social media presences among all U.S. professional sports teams. This is impressive as they even have more fans on their Spanish language channels than the LA Dodgers (12.6K followers and aka Los Doyers) who have been around since 1954, are in a larger Hispanic media market, and have an established Hispanic audience since the days of FernandoMania when wildly popular Mexican-born Fernando Valenzuela played for them in the 1980's.
Measuring against Peers in Phoenix and the NFL
Romo and the Diamondbacks don't just measure themselves against other MLB teams. They also keep tabs on the Hispanic efforts of fellow Phoenix clubs including the Suns of the NBA and the NFL's Cardinals. On most channels the D-Backs surpass these teams who have a Hispanic social media strategy as well. Additionally, they are trendsetters in professional baseball and recently the league itself (MLB) came to Romo to commend the team on the accents they have used on team jerseys and mentioning that this would be one of the league's recommendations to all teams in the ongoing future.
In the near future, Romo would like for the Diamondbacks to be as popular with Latinos as they have seen with teams in the NFL. "If you go to Mexico City you will see people wearing Cowboys and Steelers jerseys. We want to reach that level of popularity with the Hispanic consumer."
We will all be watching, because if there is any MLB team that can obtain that high an affinity with the Hispanic audience, it is the Arizona Diamondbacks.
This article was originally featured on the Nativa Agency blog.